Relax Your Mind With Blue Color In The Living Room
Relax Your Mind With Blue Color In The Living Room
An ideal living space with the appearance of fresh green colors creates a refreshing feeling. Especially on summer days, the interior layout uses blue colors to help reduce the heat for the living room.
In interior design, the choice of color will highlight characteristics or style of the house, create a different feeling and take full advantage of the color's impact on human psychological factors. Blue has many chromas and can create unexpected effects for the interior space. Moreover, this is the color of nature so it will inspire a fresh air of nature.
The living room wall is painted in dark blue to bring a new feeling
Blue living room wall paint trend is probably starting with cobalt blue. Because cobalt blue adds depth to the room space, like the ocean beauty under the night. Using cobalt blue as the background, it is quite easy to coordinate furniture in the room. It's as simple as using pillows on chairs with bright colors such as yellow. Furniture should cleverly reduce the intensity of color gamut to neutralize and not cause cold.
Slightly lighter than cobalt blue, we can add some more leaves to have a brighter wall space with a teal color. Teal blends with blue and green, this combination creates a color gamut with wide application, flexibility and adaptability to the living room space. Therefore, using this color and contrasting colors in the texture is a way to neutralize and create important accents. The pattern on the lower half of the wall softens the green color above. The green sofa set will leave an impression and be a great highlight for the airy space.
Lighter blue gives a floating sense
If you do not want to use dark blue on the living room wall because you are worried about darkening the room, you can choose light blue instead. Because the light blue color will bring a brighter space and you can easily combine the interior of the room.
For example, steel blue paint of the living room wall will take care of calming and cooling when entering the space on summer days. When using these colored walls, we can opt for white floors and furniture to create a fresh and energetic look. And sometimes we also need black accents such as coffee tables, decorative shelves to balance the room space.
And if you want to bring the ocean air into your home, you can use the blue cadet. Simply using the blue cadet as the background and combined with the low chairs and carpets is that we have the space like beaches.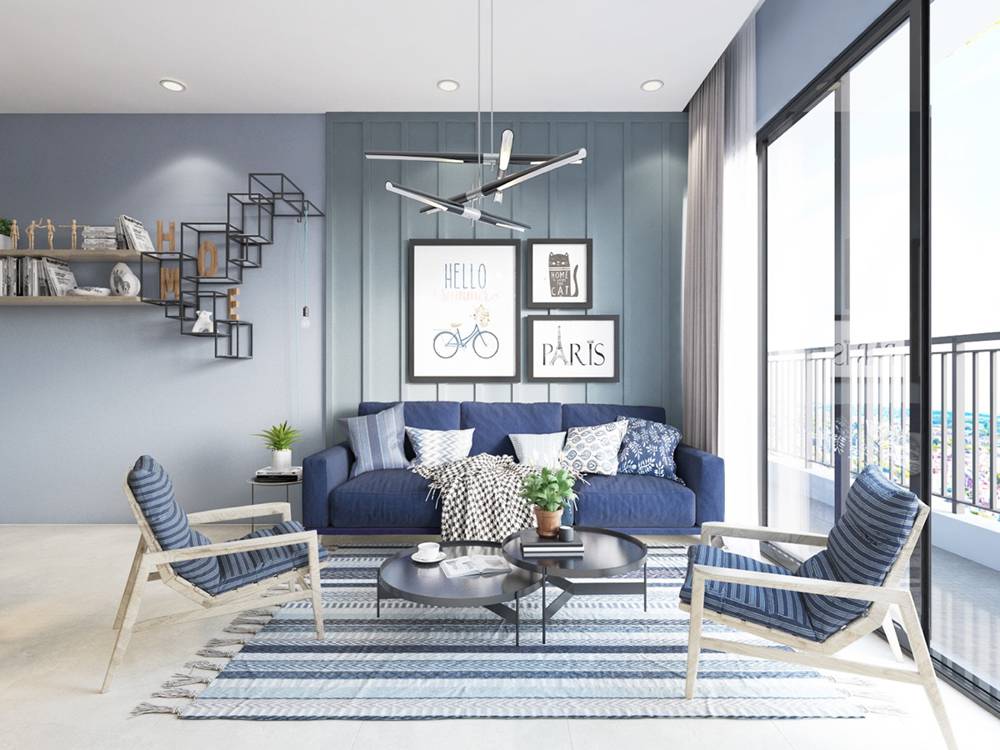 In addition, pastel blue is also an option you can not ignore in the living room design with blue walls. The pastel sea color when combined with pastel colors in the interior such as a sofa brings airiness and relaxation. These two colors combine to create a modern aesthetic, moreover, it helps family members relax mentally when living here. This turquoise living room design looks simple but radiant thanks to the simplicity of two basic colors.
In addition to blue on the wall, we can also use it in furniture to create accents.
Purple and blue walk together in the living room space. The combination of these two colors gives a much more vivid space. A lot of white and ambient light will balance the space as well as limit the appearance of too many vibrant colors.
Blue twinkles around the space of this white and blue living room. Blue is often seen as a color that brings a sense of calm and inspires positivity. If the blue color on the wall is just a small highlight, the blue sofa set shows the liberality that helps the room space to be cooler even when the window is not opened.
Use decorative paintings to bring green color to living room
Living room with a large wall can be designed simply for working or gathering but still looks artistic with wall paintings. Moreover, simple paintings with green color are enough to make the room space cooler on summer days.
Use LED lights to create a magical blue color gamut for the living room without having to change the interior
If you do not want to paint the living room walls or furniture in blue as above, we can use a very simple way that is Led lights. Blue LED lights bring a dreamy and somewhat fanciful feeling when entering the living room space. Often blue LEDs are used in aquariums, ceilings and even decorative miniatures.
It can be seen that blue is being chosen by many families in the summer because this is not only a color that brings a sense of airiness but also creative inspiration for family members. We can choose a blue wall as a highlight or can be dotted with furniture or decorations depending on the preference.
Article: Dilys Do
Photo source: Collect.