Modern interior design of 46.6 sqm apartment for newlyweds
Modern interior design of 46.6 sqm apartment for newlyweds
The area is not too large but has full modern interiors. With the creative and excellent visualization, the apartment has become modern and a worthwhile experience of the couple. The apartment is located in Baku, Azerbaijan, designed with a living room, 1 bedroom, 1 kitchen and 1 bathroom. All areas are equipped with modern furniture to provide a comfortable living space when the couple is at home.
The whole apartment uses a very cozy wooden tone. It's the ideal place to relax after a hard working day.
General layout of the apartment
The entrance to the house goes straight to the kitchen.
A small dining table with 4 seaters is designed in the same tone with kitchen cabinets.  
Small living room with bright colors is adorned by black interior.
The living room is airy, full of light thanks to a big glass window.
Stone is used to pave kitchen walls and kitchen cabinets.
The L-shaped sofa optimizes the living room space, combined with red checked pillows, creating a highlight for the sofa and the room.
A black TV is attached to the wall, which helps to save the living room space.
Sleeping lights like hovering balloons are an impressive highlight in this bedroom space. The murals seem to say this space is only for a happy couple.
A beautiful small makeup corner is located right next to the open wardrobe to bring necessary utilities for the homeowner. The space becomes softer and more tender with vases and small dried leaves.
The room is set up with 2-layer curtain, to reduce light when not needed.
An open wardrobe is designed at the end of the bed looking very stylish.
Placing a large mirror next to the door helps the bedroom space look more spacious.
The highlight of the bedroom is a round mirror with LED lights behind, creating a soft and elegant look.
Choosing the color of the blanket and bed sheet is also very suitable for the main color of the room.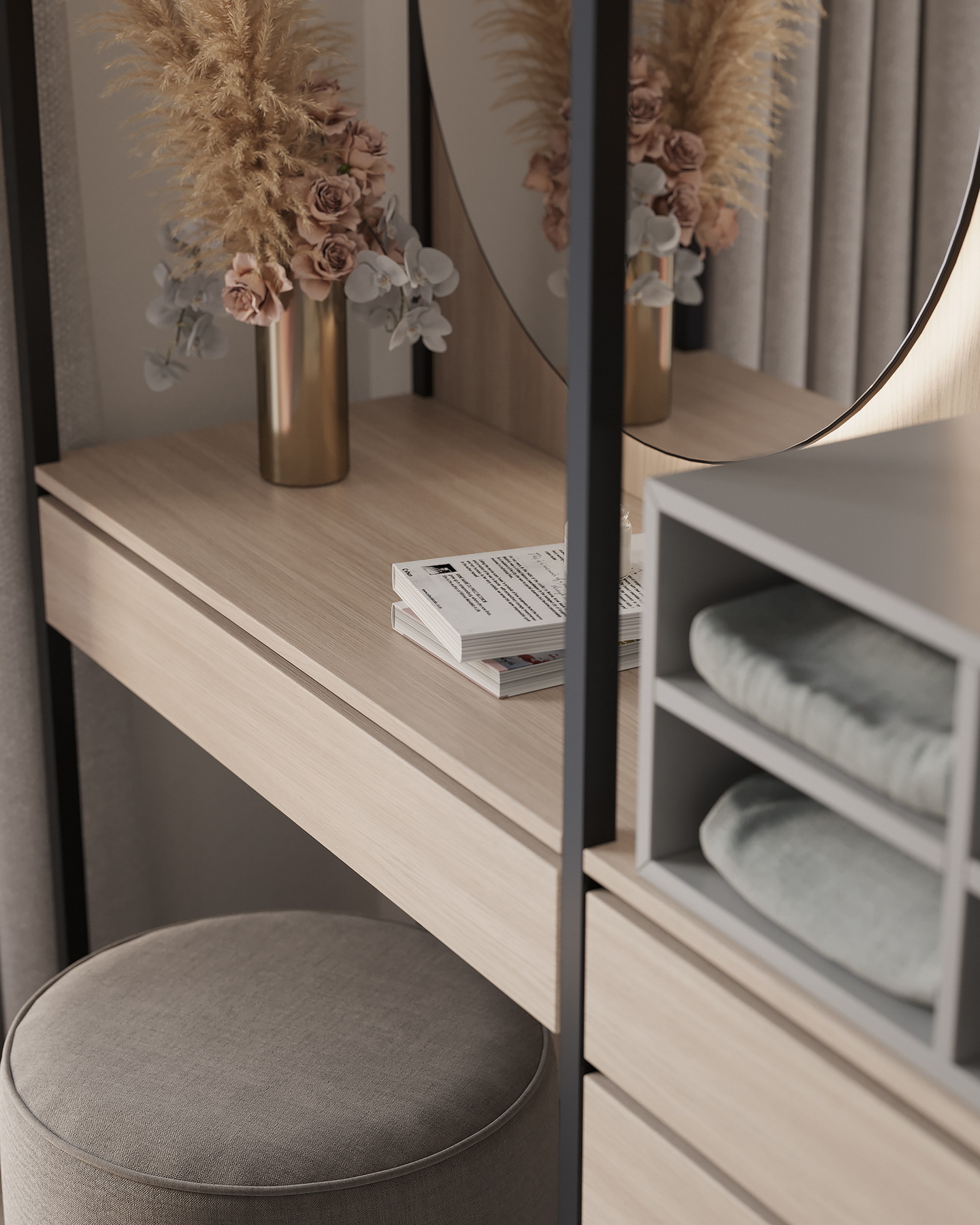 The small dressing table is combined with the wardrobe which has many split compartments, increasing the storage capacity of furniture.
The bathroom is spacious, separated from the WC by a glass door to increase the usable space.
A unique white sink looks like a pillar.
The standing bathroom is separated from the toilet area by glass doors to keep areas dry.
The room is paved with bright marble surrounding the walls.
The apartment is only 46.6sqm but designed very comfortably for use. Living room, kitchen, bedroom and bathroom all are suitable for newlyweds. Modern design helps to maximize living space, bringing relaxing and enjoyable moments together after working hours at the office.
Designer: Kamran Karimov
Article: Lucy Nguyen